---
---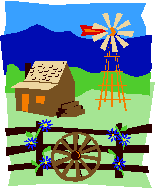 HOWELL COOPER, Jr.
1792 -- 1863
---
Howell Cooper, Jr. was born in Granville County, North Carolina in 1792, the son of HOWELL COOPER, Sr. and Holanberry Cooper..
By 1806 the Cooper family had moved to Jasper County, Georgia. Howell Cooper, Jr. married Clarissa Boyd there on May 12, 1816. Two children were born to Howell and Clarissa. Frances M. Cooper also known as Fell was born in 1818 and a daughter in 1820.
At the age of thirty-five Howell married a second time. On October 1, 1827 he married Mary Yarborough, the daughter of Jeptha Yarborough.. She was about twenty-one years younger than Howell. Their first child, Julius D. Cooper, was born in Jasper County, Georgia in 1828.
By 1830, when their second child, Alexander Howell, was born, Howell and Mary Cooper were living in Hardeman County, Tennessee. Six additional children were born while the Cooper family was living there.
Howell moved his family to Hot Springs County Arkansas before his son George Washington was born on the 17th of February 1842. Howell was a ginwright and a farmer.
In 1850 Howell obtained a Patent for the North Half of the Northeast Quarter of Section 9 and the SE-NE of Section 9 in Hot Springs County. Hiram Clift had taken the first Land Grant from Section 9 in the 1830s and had built a mill on Ten Mile Creek. Hiram sold some of his property to George Ebbs in 1852, but when the 1850 census was taken the only residents living in Section 9 were Hiram Clift and Howell Cooper and his three sons, Alexander, Julius, and William Jasper.
During the 1860's three of Howell Cooper's sons died (Jasper, Julius, and Richmond) as did his wife Mary Yarborough Cooper. It is believed that they were buried on the Cooper land in Section 9. Family tradition has it that the Coopers started the Fairplay Cemetery, and they were probably the first family buried on the land that later became the Fairplay Cemetery. George Ebbs was also buried on a corner of his land, and in 1866 Hiram G. Clift was buried in the grove of cedar trees on his.
By 1862, Howell Cooper had sold his land in Section 9 to the Davenport family and had purchased property in the Clear Creek Community. There he lived until his death on the 14th of January 1863.
Note: Much of the above is from research done by Frances House-Greiss a descendant of Howell Cooper. The deeds of Hot Springs County need to be researched to obtain exact dates for Howell Cooper's purchases of specific tracts of land.
Return to Mike & June's Homepage.